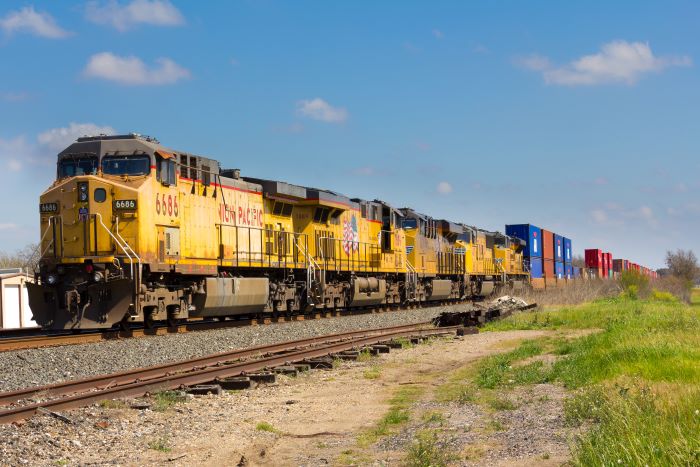 UP has raised spot or contract intermodal rates each week in August, an acknowledgement it is pulling every lever possible to restrict volume beyond its base commitments. Photo credit: Shutterstock.com.
Union Pacific Railroad will increase surcharges on excess contract cargo to $5,000 for small shippers and $1,500 for all other domestic shippers in Los Angeles effective Aug. 30, raising prices again to record territory to divert all equipment and assets to core customers amid a surge in volume that has overwhelmed the western railroad's network.
The move has increased intermodal prices so high that spot truck rates are cheaper on key freight routes.
Intermodal prices from Los Angeles to Atlanta, Dallas and Chicago will be roughly $7,500 on the spot market next week, and more than $10,000 with the surcharge on small shippers, according an intermodal marketing company (IMC) executive. Truck prices on the three lanes are less than $7,000 all-in for shippers, according to data from the JOC Intermodal Savings Index and DAT Solutions.
The $3,500 surcharge on small shippers, which went into effect Aug. 23, apparently was ineffective in slowing demand, as was the $500 surcharge on medium and large shippers applied Aug. 16. Prior to this year, UP had never applied more than a $1,200 surcharge.
UP has raised spot or contract intermodal rates each week in August, an acknowledgement it is pulling every lever possible to restrict volume beyond its base commitments. That includes a Tuesday announcement that shippers cannot drop containers more than two days in advance in Chicago and Denver to ease the burden on the terminal space and overworked labor.
"Union Pacific continues to see increased demand for domestic container capacity. In an effort to drive more capacity towards committed baseload volumes we are increasing the surcharges for customers shipping surge volume on the aggregate and standard MCP in the LA market," the railroad wrote in an Aug. 27 advisory to intermodal marketing companies (IMCs), obtained by JOC.com.
The "aggregate MCP" refers to contract intermodal rates provided to customers without enough volume to qualify for a shipper-specific contract. The standard MCP is for large enough shippers to qualify for an annual contract known as the mutual commitment program.
A UP spokeswoman referred JOC.com to previous statements about how intermodal demand is unprecedented and raising rates on spot freight and excess contract cargo is necessary to handle baseline volume from core customers. Several intermodal marketing executives, who spoke on the condition of anonymity, explained that UP has struggled to provide enough equipment to shippers to handle the weekly volume agreed upon in the MCPs.
UP's surcharge will apply to all volumes above a "peak allotment," which is calculated by averaging a shipper's weekly loads and applying an additional surge amount between 10 percent and 25 percent, depending on the customer. For example, a customer who ships 40 containers per week would be allocated somewhere between 44 and 50 loads prior to paying the surcharge.
UP is also assessing a $500 surcharge on excess cargo out of Northern California and will be imposing a similar fee in Seattle starting Sept. 6.
Contact Ari Ashe at [email protected] and follow him on Twitter: @arijashe.
Importing and managing the logistics of your precious freight is no easy task. Compliance to U.S. Customs & Border Patrol is essential to your cargo clearing customs. Use a freight forwarder to lower your chances of having shipment delays and to oversee all of your international freight logistics. Contact a customs broker to file your ISF and issue any pre-alerts to avoid penalties and delays, and arrange your ocean freight and imports customs clearance.